NeuroSPiN Project—Start of Data Collection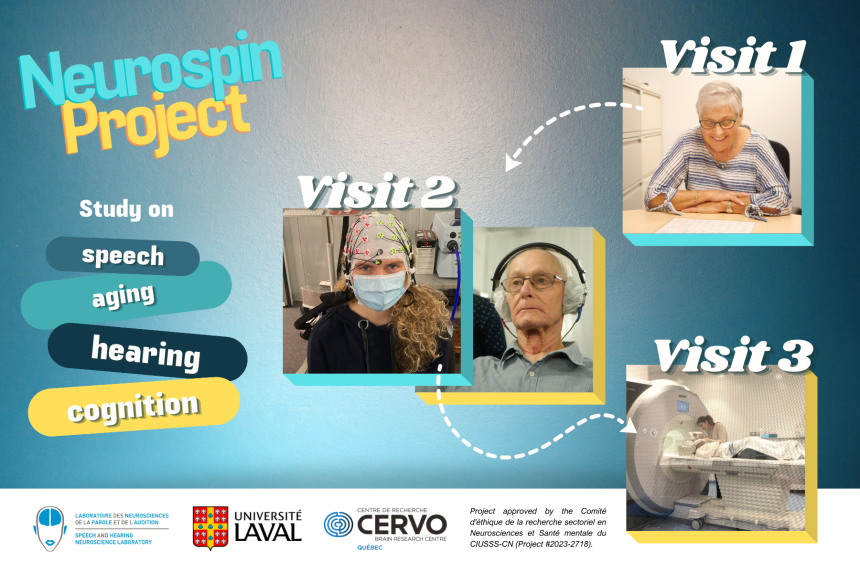 The objective of this study is to uncover the mechanisms that underlie speech perception in noise difficulties, which are very prevalent in the elderly, beginning to appear as early as in the late thirties. Since most conversations take place in the presence of noise (e.g., in restaurants or at home when the dishwasher is running), these difficulties can have significant consequences, including on self-esteem, social participation and well-being.
For this research project, we will recruit people aged 35 and over, right-handed and speaking French fluently. Since speech perception in noise difficulties affect seniors in good health, but also those with hearing or cognitive loss (further accentuating the consequences on daily functioning), we will recruit people with various auditory and cognitive capacities.
Participants will be invited to a maximum of 3 visits to the CERVO Brain Research Centre. The first two visits last approximately 3 hours each and take place in our laboratory. Participants are asked to complete several questionnaires and perform tests measuring cognition (first visit), hearing and speech (2n visit). During the 2nd visit, the electrical activity of the brain will also be measured using electroencephalography (EEG). The third visit (approximately 1h30) consists of a magnetic resonance imaging (MRI) session, during which images of participants' brains will be taken. This session takes place at the new MRI platform of the CERVO Brain Research Center, located just below our laboratory.
Full compensation for participation in all three parts of the study is $115.
Over the past few months, the lab team has worked hard to prepare the project, in collaboration with the co-researchers. The first step was to obtain ethical approval for the project. Then, in order to plan the cognitive assessment taking place during the first visit of the study, Pascale and Marilyne worked together with Carol Hudon, professor and neuropsychologist with expertise in cognitive disorders associated with aging, and her team, as well as Joël Macoir, professor, speech-language pathologist and specialist of age-related language dysfunctions. For the planning of the hearing tests, Pascale collaborated with Andréanne Sharp, professor and audiologist. Finally, Pascale developed the speech perception battery and the MRI session. Several pilot testsprior to the start of the study were carried out for each visit. In addition, new equipment was purchased to perform the hearing tests, team members were trained to administer the tests, and protocols were developed to standardize data collection. Once all these steps were completed, the recruitment of volunteers was started!
If you would like to participate in this research project, or learn more about it, call us at 418-821-1229, write to us by email (laboratoireparole@crulrg.ulaval.ca), or fill out this online form.
This project has been approved by the Comité d'éthique de la recherche sectoriel en Neurosciences et Santé mentale du CIUSSS-CN (Project #2023-2718).