The event Les filles et les sciences 2023 in Quebec
Last November 4th, Alexandre, a master's student at the lab, participated in the Québec-Chaudière-Appalaches edition of the provincial event Les filles et les sciences (Girls and Science), promoted by Boîte à science and the organization Les filles et les sciences. The event took place at the Faculty of Science and Engineering at Université Laval.
We were invited to participate by our former intern from the biomedical sciences program, Sabrina, who works there as a scientific educator. Alexandre and Sabrina (Figure 1) graduated with a bachelor's degree in biomedical sciences at the same time, in the spring of 2022. Sabrina's scientific knowledge, as well as her contagious enthusiasm, creativity, and endless energy allow her to make science appealing to everyone.
Boîte à science is a non-profit organization whose mission is to participate in the development of creative skills and skills in science and new technologies among young people.
The event Les filles et les sciences allows girls from secondary 2, 3, and 4 to discover science through a multitude of activities and demonstrations. This year, the event included 160 participants!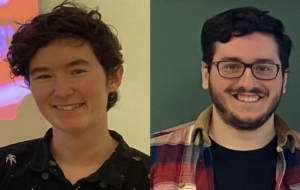 For the occasion, Alexandre had prepared a workshop to introduce Magnetic Resonance Imaging (MRI), one of the lab's main research methodologies. The workshop covered the functioning of MRI, its health and safety aspects, and the exploration of images through various games and activities that we had the opportunity to practice as a team before the big day! Can we estimate a person's age by observing MRI images of their brain? Is it safe to enter an MRI machine with dental appliances like braces? These and many other questions were discussed in Alexandre's workshop (Figures 2 and 3).
Congratulations to Alexandre for preparing and conducting this workshop, and congratulations to the entire Boîte à science team for organizing this important activity!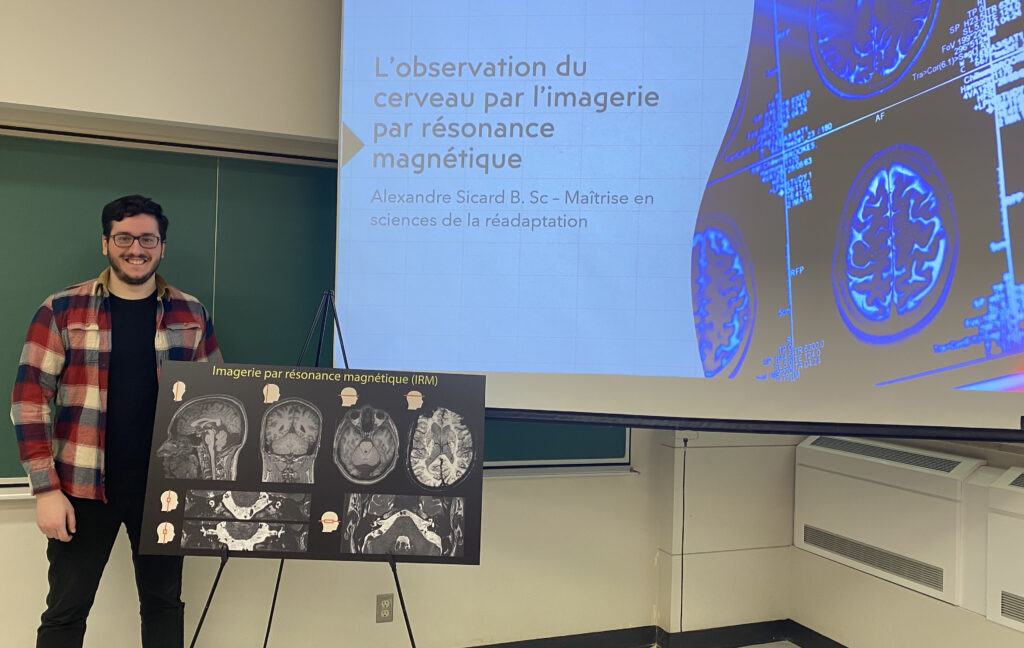 We took advantage of this opportunity to ask Sabrina some questions and learn more about her job. Sabrina is the coordinator of two events, the Défi apprenti génie (Apprentice Engineer Challenge), a primary component of the Hydro Québec Expo-Science, and the Mois des Débrouillards en famille (Family Science Month) for the Quebec and Chaudière-Appalaches regions. She also conducts scientific activities in schools, libraries, camps, etc. Her job allows her to foster joy, pride, and self-confidence in young people through scientific activities in various fields, from chemistry to physics to programming! Her enthusiasm is palpable: 'I meet many young science enthusiasts and others who discover an interest in it through our activities. Their smiles, passion, and enthusiasm are unparalleled! It's very rewarding, and it warms our hearts when we return to a school, and the students remember us and are excited to see us! It's a unique opportunity to have a positive impact on so many young people – and who knows, maybe even inspire the scientists of tomorrow!'
Congratulations, Sabrina, on this important work!
Science is for everyone!