Arrival of Keir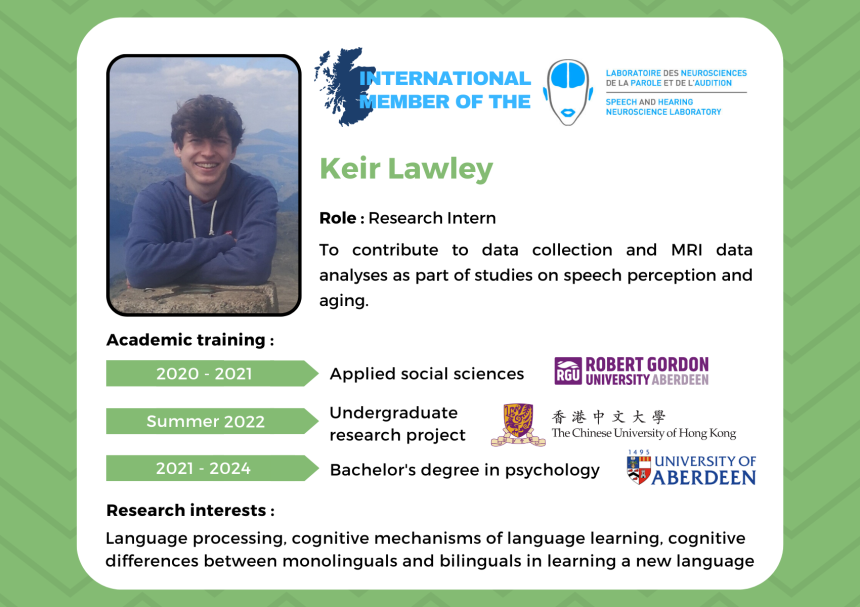 Keir is a new international student from Scotland, who has just crossed the Atlantic to join our lab for the summer.
One of his contributions to the lab will be to help analyze functional magnetic resonance imaging (fMRI) data from our PICCOLO project.
To get to know him, we asked him about his research interests and what he hopes to discover during his stay in Canada. He also shared a few fun facts about his home country! 
Q – Why are you interested in our lab's research work?
"I have always had a passion for languages. As I began to study psychology I became extremely fascinated by just how intricate all the cognitive mechanisms of language were. The work the lab was doing in language looked so fascinating, it felt like the perfect opportunity to learn more about a field I was really passionate about. Also with the different research backgrounds of the team members I was excited to gain a whole new perspective of this field."
Q – What would you like to discover or visit during your stay in Canada?
"During my time in Canada there is so much I want to see and do. There are the main things like visit Niagara Falls and visit all the big cities. As well as other things like trying ice-hockey. Also, I really want to try to immerse myself in the Quebecois culture, for example try poutine and hopefully learn some French."
Q- Would you share with us a fun fact about you or your country of origin?
 "Some fun facts about Scotland are our national animal is a unicorn and we are home to the oldest golf course in the world (aptly named the old course)."
Hopefully Keir will enjoy his time in Canada and find his internship experience rewarding!